Great to see your interest for the publications from the PED-t research.
PED-t (Physical Exercise and Dietary therapy) is a new therapy for the eating disorders bulimia nervosa and binge-eating disorder, designed and evaluated for its efficacy in 2014-2018. It was compared to the currently recommended therapy for these eating disorders, cognitive behavior therapy, and to a waitlist control group. After the first effect exploration,we continued explore its acceptance, feasability and effect as it was transferred from the research context and implemented to naturalistic use (publications are planned for 2023/24). In Norway the Exercise Referral Centres are the local units integrated to primary healthcare services where PED-t currently is offered.
The only opportunity to be trained in PED-t and to have its treatment manual is through course offered by PhD Therese F Mathisen. To qualify for training in PED-t, you need a bachelors degree in exercise physiology, physiotherapy, or dietitian (or comparable academic competence).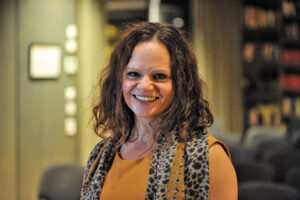 PhD Therese Fostervold Mathisen
therese.f.mathisen@hiof.no
All papers are listed with links to the publication (press the link associated to the title for each publication)